Creating a good-looking, catchy Upwork profile is critical in getting accepted to the platform and getting your first job.
Today I'm going to tell you how to take a good start with a polishing Upwork profile. Since the article is a bit long, let's start with a summary for those who are lazy :)
Check these boxes before creating your profile:
●   Add at least 5 portfolios.
●   Check out other profiles in the same industry as you.
●   Do not use "I" very much in the description.
●   Add your certificates.
●   Do not mention yourself, where you live, and your ambitions in the statement.
● Don't keep your profile private.
●   You can use photofeeler.com for your profile photos.
●   If you're in a big project, cut it into small projects. Then add them to the profile.
●   Detail your projects as much as possible. Remember, if the employer's project matches some of your previous projects, you are much more likely to get the job.
●   Include your successful stories, if you have any.
●   If you can not give a company name, you can say that it is your country's most significant company in the "X" sector.
●   If you have a confidentiality agreement, you can cover the parts that will cause problems and add them to your profile.
●   Pay attention to the hourly rate and don't despise it.
●   If you have a portfolio on Github, Dribble, or any other platform, add it for sure.
●   Complete your profile 100%.
●   If you share some Screenshots of projects, ensure they are in English.
A professional profile is one of the first things you need to succeed at Upwork. Meeting your potential customers is a significant opportunity to stand out and differentiate yourself from the competition. Not only as part of your offers but also for potential customers who might discover your profile.
Many clients seek freelancers with the skills they need and invite them to look at job postings. It is a proactive approach that can help businesses meet their project needs more quickly and successfully.
Completing your profile isn't limited to giving customers the information they need. It also helps Upwork to match you with the relevant projects, which is required if you want to achieve "Rising Talent Status" or "Top-Rated Status".
Before coming to the article's subject, shall we look at whether working as a freelancer suits your profession and abilities?
---
Good Fit to Work on Upwork
If Upwork is suitable for your business is one of the frequently asked questions. Can you do your job on the computer without leaving home, and does your work make sense?
If you answer yes to both of these questions, you can work as a freelancer.
If you are a translator, developer, or digital marketing specialist, then you are suitable for working as a freelancer. If you are a teacher, you can teach online. If you are an architect, you can do 3D Design. Such people work very comfortably because they work at their desks.
On the other hand, if you are a photographer, it may not be suitable for you if you must go to private shoots.
Before I show you how to create a good profile, I would like to go into the fundamental of the business. A profile is the point of understanding for someone who meets you for the first time. That's why you need to showcase your skills.
It is necessary to understand the target audience. Someone who doesn't know you at Upwork won't give you a very comprehensive job if you don't have a profile history. Therefore, relatively basic and low-budgeted jobs should come to the fore in the first period.
Upwork is not LinkedIn. So it is better not to write your whole resume. An employer does not outsource a core job. Instead, they get a job done that they can accept, even if it's wrong.
It might hurt a little at first, but that's the nature of the business. As much as possible, highlight the low-paying and already a highly experienced job. Write down what you want someone to know about you to see for the first time. If you have already done a job for that person and trust has been established, you can work with that person for a long time.
In this article, we'll talk about
●   How can you use each profile part to present your skills?
●   Tips on choosing a professional profile picture,
●   How can you present your expertise?
●   How to create an outstanding promotion video
●   Tips to highlight your best work
●   Advice on listing your certificates
●   The importance of including past experiences
●   How can you combine your educational background and other experiences?
●   The tips you must consider while reviewing your profile
Is It Important To Complete My Profile %100?
By the way, it is the first condition for being a Rising Talent.
For a 100% complete profile, You need to sufficiently fill in fields such as education, employment history, other experiences, languages, and skills. That is fundamental to achieving a 100% Full Profile on Upwork. Some areas get +5 and some +10 points; for example, you can put video promotion as an option; I think it would get 10 points more. But most people don't need it. Filling in all the fields is enough to get a complete profile.
There is no single path for a complete profile. By adding information to different fields, you can reach 100% with different combinations.
---
Write Your Profile Description
Most people are not aware of the over usage of "I". How many "I "s are in your profile description? We love to talk about ourselves, and we always try to highlight the parts of ourselves that we are good at.
Isn't that what the profile is for anyway? NO. The profile is an area where you highlight the work, not you.
✅ Dos:
Keep it short
Talk about your professionalism
Describe your business process
Describe your work ethic and preferences (the jobs you prefer). Keep in mind that you choose customers too.
Use plenty of substance and appropriate and clean emojis.
🛑 Don'ts:
Talk about your dreams. They are interested in what you do, not your dreams. A bad but dramatic example. If you are a napkin, they will wipe the water spilt on the table and throw it away. These are their perspectives. Is it bad? No. It is pure truth. If we act according to the truth, we win.
Don't say how good you are. Your work should say that, not you. The more a person says trust me, the more you suspect, right?
Do not mention that you will deliver the job on time. You should already deliver the job on time by default.
Do not write too long. A person looking at your profile should think it is worth reading in 2-5 seconds; In 15 seconds, they should understand everything written.
Don't think your profile is correct.
What I said is to earn the first few $10 thousand. Then many different factors come into play. For example, I've seen people with an hourly wage of $500 do the opposite of what I suggest. According to them, capitalism no longer proceeds from employer to freelancer; It proceeds from freelancer to employer. Therefore, the more stories they write on their profile, the higher their value.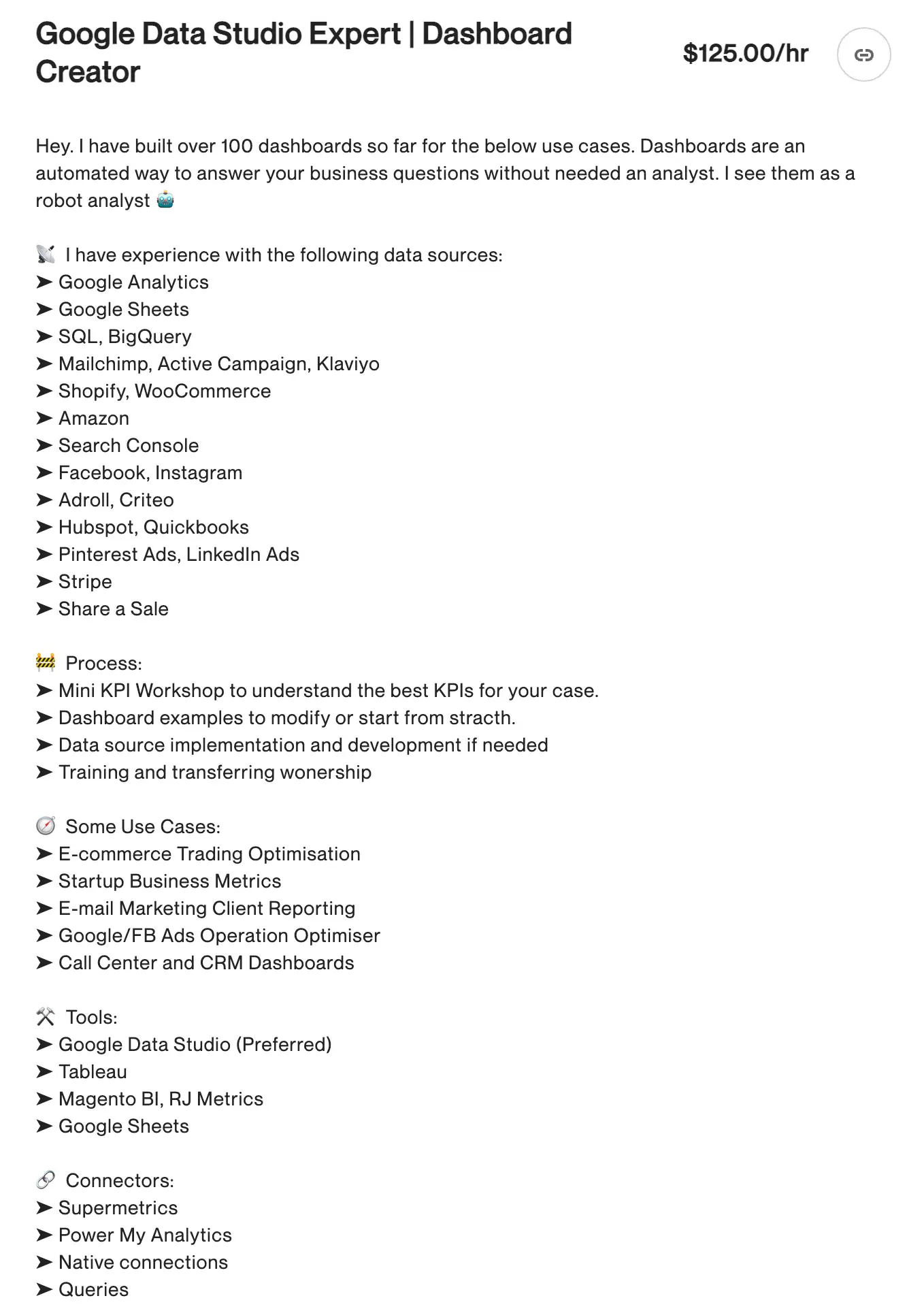 ---
Set an hourly rate that reflects your skills and experience level. You can search Upwork to get an idea of the pay ranges for similar freelancers. Building your profile enables you to present your best experience and expertise.
Consider the following tips.
Your best skills should be at the top
4 to 6 skills
You must pass the Upwork skill tests
Use every part of your profile to showcase your skills. Upwork has an extensive list of standardized skills that can help you quickly identify your strengths and connect you to relevant projects. These skills also help clients find you more quickly, so these skills should reflect your expertise. Only list the skills you can back up in the other profile sections, such as your work or employment history, portfolio, and education.
Can The Order Of Customized Profiles Be Changed?
When you come to the profile settings area, there is a swap button in the upper right corner. You can change it from there.
How Can I Work In Two Different Fields In Upwork?
My profile is about architecture, but I am learning software and will try to get a job in this field. Is it possible to open a separate account for this?
Using the same account for two different disciplines creates a marketing problem while getting a job. So which one is the better option?
Opening two accounts can permanently cause you to be banned from the site. However, there can be profiles for two different services under one account.
---
Clients want to feel like they can trust a freelancer before engaging them for a project, and your profile photo is an important part of the equation.
One of the first things people say to you when you go to a job is to make an excellent first impression. The same logic is applied to online platforms, and your profile picture is one of the first things customers see on your profile.
To make an excellent first impression, ensure the profile photo clearly shows your face, so customers know who you are. Also, upload and use a high-quality photo with a sincere smile.
We cannot convince clients who do not feel warm to work with us.

Photofeeler is one of the handy tools I have used for a long time. In a way, it is one of the tools that allows you to look at yourself through the eyes of the people and save yourself from your prejudice.
I added my photos and started using the photos that received the best feedback on my Upwork profile and all social media.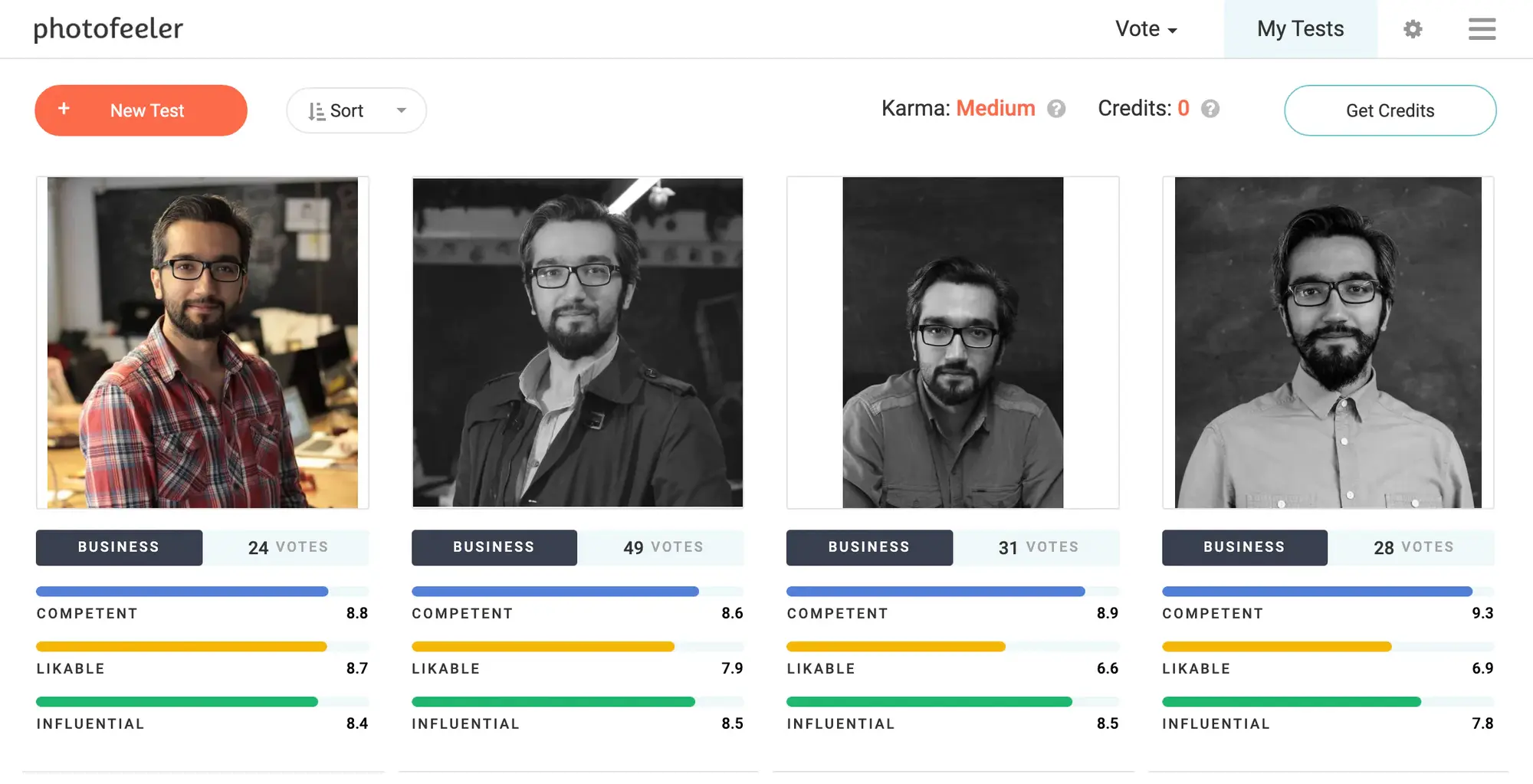 My favourite was the 3rd photo. I thought I was "cool". But according to the feedback, I saw expressions such as cold, distant, harsh, and a type of person who should be avoided.
You can easily register on Photofeeler and use it by following the steps.
Create A Presenting Video
An intro video can help you shine and stand out, especially since many freelancers skip this optional part. Creating a video may seem intimidating, but it doesn't have to be! Start with a great script that explains who you are, the type of projects you want to work on, and your areas of expertise.
---
Finding a title may seem simple, but it is a potentially powerful tool that freelancers often overlook. Why is it so important? Because when a customer finds your profile in search, the first thing they see is your title.
The Correct Title
Personal Experience
It should be short but effective
Your overview is entirely invisible until someone browses your profile, but it's also an obvious part of marketing since it's at the top of your profile. Use it to introduce yourself and your services.
The title you wrote on LinkedIn is not appropriate here. People have position-based titles there. However, Upwork has focus-based titles. I present myself as a Data Analyst on LinkedIn, but I'm a "Google Data Studio Dashboard Creator" on Upwork.
When you apply for a job or search for a client, your profile tries to find a place among other profiles. That's why you have to love a title that includes 7-8 words and clearly explains what you're doing. So this title definitely could not be a cliche. Please take some time and do your homework to get a good-looking title.
How Can I Work In Two Different Fields On Upwork?
My profile is about architecture, but I am learning software and will try to get a job in this field. Is it possible to open a separate account for this? Using the same account for two different disciplines creates a marketing problem while getting a job. So how would it be better to do it?
Answer: Opening two accounts can permanently cause you to be banned from the site. However, there can be profiles for two different services under one account.
Should I Open A Sub-Profile?
You have the chance to create 1 main and 2 sub-profiles in Upwork. Thus, you can increase your chances of getting a job with profiles specialized in more than one field.
But I want to ask you something. Would you like to hire a freelancer who can manage Design, software, and social media on a platform with approximately 1 million active freelancers? I would not want to hire them.
If you are sure that you will earn money from the work you do, starting with a single profile will get you the first job faster, but if you do not know what to do yet, you have to open sub-profiles, apply for different jobs and act according to the feedback. If you get good feedback from one profile, you can delete your other profiles and reduce them to one profile.
---
The portfolio can be practically guaranteed to attract a potential client's attention: This is also a chance to demonstrate the quality of their work and the value of their expertise.
If you don't have the business opportunity you usually do in Upwork, your portfolio is one of the first places employers will look. The rule of freelancing is to talk about your work more than yourself. Therefore, it is helpful to add as many portfolios as possible here.
Choose pieces that reflect your business area and help prove your expertise. If your skills are not particularly visual, try to find creative ways to explain the difficulty behind each example and how it affects the work.
1. How Should The Portfolio Of New Graduates Be?
Clients don't want something never done before on freelancer platforms. Therefore, it is a great advantage that you have done and finished a project before (for a client or as your project). Well, you're a recent graduate and haven't worked at any job before, so you don't have a portfolio. Here are some suggestions:
● You can put the projects you did at school, or you can develop the projects and then put them on your profile.
● You can add the samples you found on the Internet to your portfolio by copying them.
● Although the chances of getting the job are very low, you can apply for jobs at Upwork without a portfolio. And then, even if the job is not submitted to you, you can pretend you got the job and put it in your portfolio. You will be surprised to see similar jobs coming up at Upwork.
With the methods above, several examples will be in your portfolio within 2-3 months.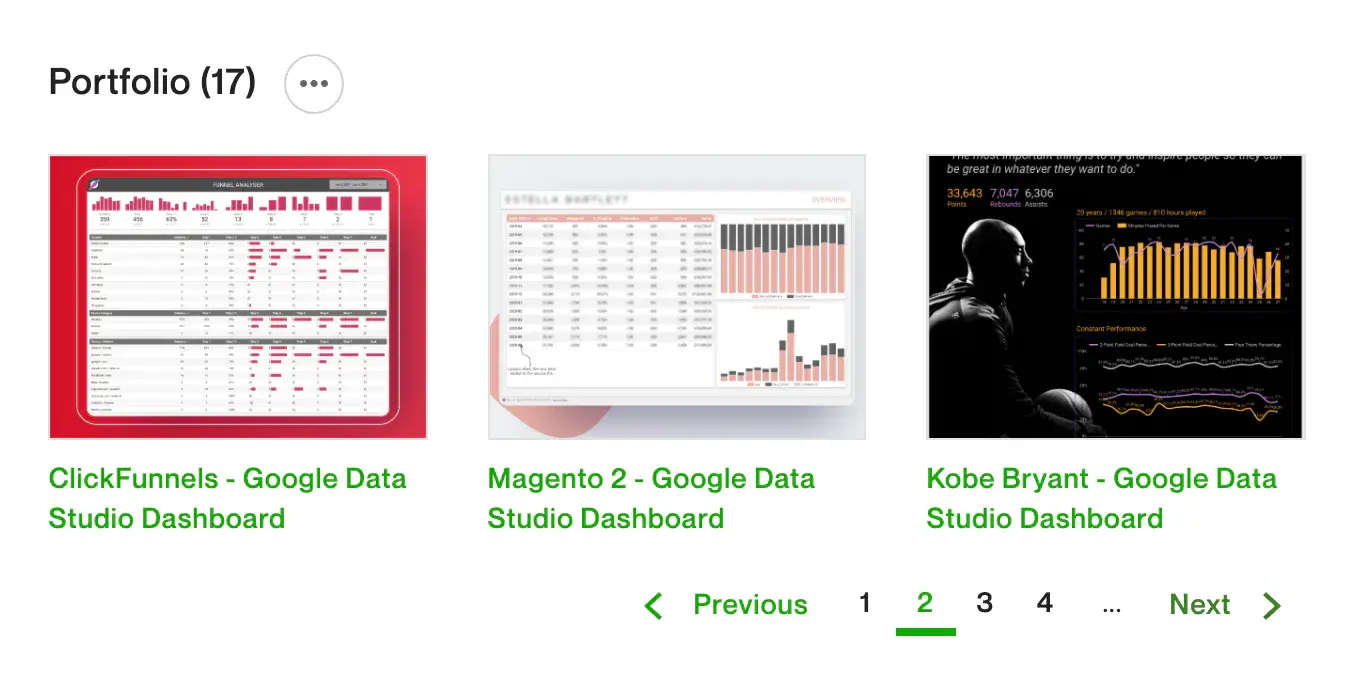 Also, relax. Everything you finish, small or large, is a project. When you add it to your profile with a beautiful image and description, your profile will look complete, and your self-confidence will be replaced. Although the content is the same, the cover letters you write when you have great confidence in yourself excite a higher return. I haven't figured it out yet.
2. How Should I Add Large Projects To My Profile?
If you have completed a significant project on your own, I suggest that you add this project both as it is and by dividing it into sub-projects. The first time you work with a client, they usually won't give you large-scale jobs. Instead, you will gain confidence in a small project and then sail to larger-scale works. You can see each subproject as an independent project, name it and add it to your portfolio.
Please don't include the parts you didn't do yourself. It would be best to tell the client with a sparkle of your eye that you did this job.
While writing this, I felt I was approaching you like a client's slave. So I aim to direct you to jobs where you will be paid for your efforts.
In conversations you are afraid of, the client usually proceeds with a low budget and has their eye on you. But if you know the details of the job, the customer will leave you alone, and you will be comfortable that you will do the work you have done before again. Making money comfortably is our primary goal.
3. Do I Need Permission From The Person I Work With For Each Portfolio?
If you're going to show the client's name, YES; if it stays anonymous, NO.
If you are a well-known person working in a large company in your country, unfortunately, you cannot hide an open project made in that company.
You need to respect company information in ethical and contractual ways. For example, if you accidentally show a company's information to another company, the loss of trust is inevitable because you can also offer this company's information to other companies in the future. Moreover, you may be in trouble if there is an NDA.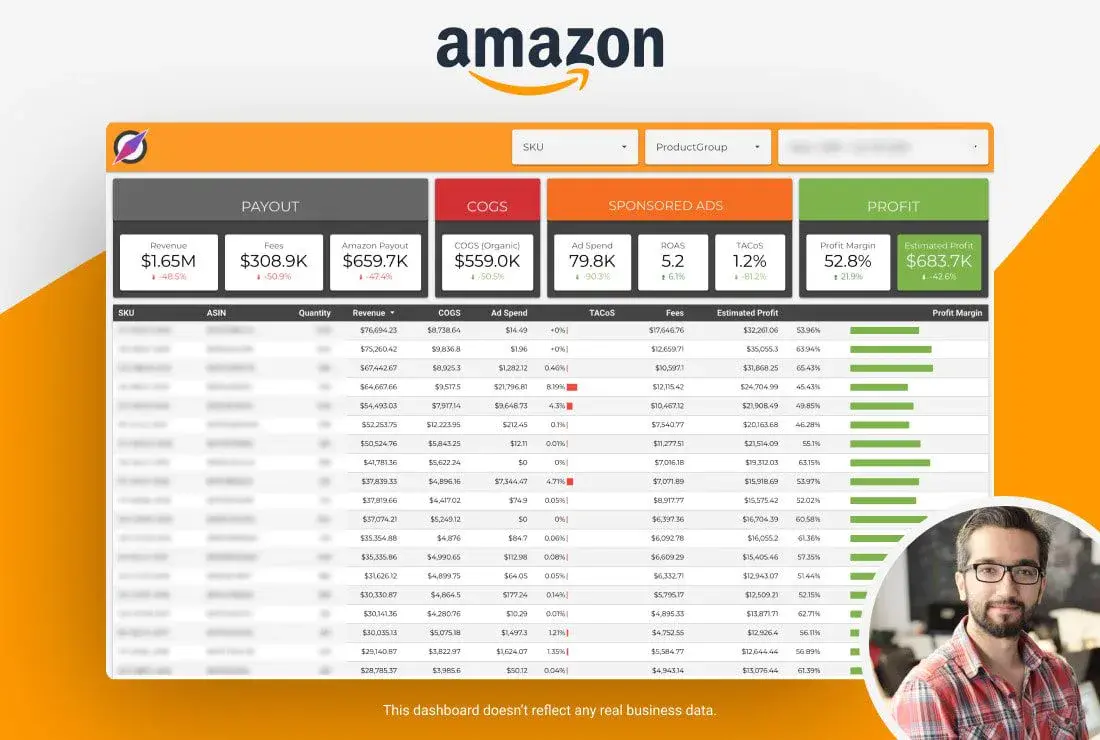 One of the examples I put in my portfolio is the Dashboard above. I changed the format of the Dashboard a little bit. I removed the customer logo and colors. I also removed the product codes and dates. Thus, they will not be able to contact the customer from the product codes, and they will not be able to estimate the approximate customer size from the date. The Dashboard below shows both everything and also nothing sensitive.
How Can I Add My Articles To The Portfolio?
The introductory paragraph and the link are enough if they are clear articles. If they are not published, most of them can be added blurry so that the other party cannot copy them.
For example, you can write only the first two paragraphs of 3 or 4 articles to put in your portfolio and a screenshot.
Is It A Wrong Impression That Low-Budget Jobs Remain In Profile After Receiving High-Budget Jobs?
If you mean a big budget of $3-5K, it can stand out, but if you mean a project of $300-500, then you can keep it on your profile. Besides, soon they will become invisible. They will be left behind in your profile.
Why Is It Important To Add A New Portfolio?
Clients are interested in how many people are returning rather than applying. I made 4 applications today and have continued to message two of them. Also, they even got me presents. I've been taking it slow for two months; while looking at ETS, my profile started to decrease its value when I became less active.
Then I added a new portfolio and started applying, and my profile went up. If your curve is going down, add a new portfolio. Your activity is essential.
How Long Does The "Under Review" Period Last In The Portfolio?
The confirmation email is sent to the customer, and the panel will be updated within 24 hours if the mail is approved. Even if they don't see the email, the portfolio is added automatically after three days.
Is There A Notification To The Client When We Add A Completed Job To The Portfolio In Upwork?
If you associate with them while adding the portfolio to the profile, they have a 3-day period to oppose. But of course, you need to ask the customer in advance.
How Does The Process Of Getting A Job Through The Project Proceed?
I've worked on the project since the beginning; I think it's easier and faster than getting a job by bidding. I haven't experienced anything bad. But it is helpful to write the terms and conditions of the offer very clearly. So it is necessary not to talk uncertainly.
---
Listing the certifications you earned can help you prove specific knowledge or skills, especially if they relate to particular systems or software your clients may be looking for.
Clue:
To help you connect with clients looking for non-native language skills, consider adding certificates that reflect your proficiency in that language.
Is The IELTS Certificate Valid On Upwork?
I have added IELTS as a certificate. Then the English Fluent approved badge has published.
The badge shows up when they examine the IELTS and approve the certificate. It supports increasing the 100% completion of the profile and confirming the knowledge of English.
What Are The Easiest And Cheapest Certificates I Can Add To Upwork?
If you have a certificate from outside the list, you can add it. For example, I took a course from the Istanbul graduate school of business and added it.
---
Add Your Experiences And References
Including details about your employment history can help clients understand your history inside and outside Upwork.
You can start by briefly describing your responsibilities and achievements in previous roles. Pay attention to projects related to the types of projects you are currently looking for.
As your freelance business grows, consider adding new entries for a few of your most impressive projects to help you reaffirm your credibility.
If you don't have a traditional employment background, consider adding it in the form of a single line item with a brief description outlining the focus of your freelance work. You can use bullets to highlight achievements and show your expertise.
How Do I Add My Upwork Profile To My LinkedIn Profile?
You can choose Upwork as a company and add it as Self-Employed.
References are usually required to get the first few jobs. For example, you can think of a rocket that carries a space capsule to the upper layers of the sky and completes its mission.
I said that the most relevant element of Upwork is the jobs you get in Upwork. But what if you haven't taken a job on Upwork yet? Then the comments you receive from the people/companies you have worked with will become necessary.
When you scroll down to the bottom of your profile, you will see the "Testimonials" section. Here they want you to enter the LinkedIn and company email addresses of the people you will receive feedback from. After that, an email is sent to the opposite side. Generally, it appears in your profile after approval within 2-5 days.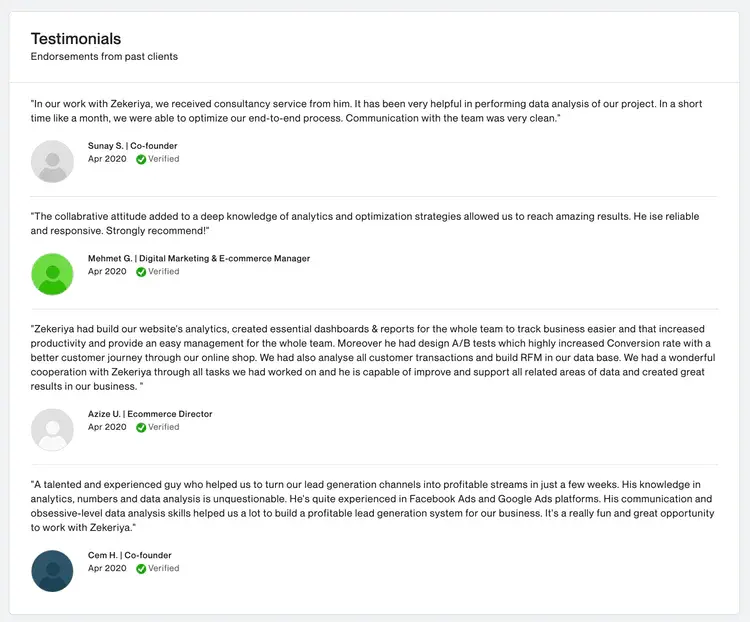 ---
Don't Forget Your Educational Background
Your knowledge is not only your previous work experience! Your education and other activities – such as volunteer work, mentoring programs, online courses, and other extracurricular activities – can help you shape what you do and how you present yourself online.
How Does The Upwork Skill Certification Process Proceed?
The Upwork Skill Certification proceeds in the form of coding for programmers and portfolio presentations for designers.
Since I am a software developer, they make tests from codesignal for software developers. Available on other similar platforms, hackerrank, etc. You can solve a lot of algorithm questions on these platforms. You can go and test yourself first. I have spent some time in hackerrank before.
The exam has 2 stages. You can think of the first one as a test drive. I can say that this has no effect. After completing this, they send you the actual test, which is 90 minutes.
While receiving an invitation, you choose which programming language you will solve the exam. 'Normally, you can solve an algorithm on the site in the language you want. But in the invitation that comes with the Upwork invitation, you only take the exam in the language you specified.
Your camera is turned on during the exam, and your screen is recorded. After the exam, someone watches your exam again.
If you fail the test, you can retake it after about six months, but you don't need to wait for an invitation; if you directly send an email to [email protected] and your period has expired, they give you the right to a new exam. You are just taking the exam; there is no first essay exam anymore.
2-3 weeks ago, I practiced at code signal to solve 1-2 questions a day. By the way, I sent an email to [email protected] email address to retake the exam. I received a new invitation. The incoming invitation has a validity of 14 days.
I took the exam. I was sure that this time it would be a success. Your score is visible immediately when you submit the exam.
After Codesignal completes the manual check within 48 hours, they notify Upwork, and you will receive an email. Then Upwork informs you about the actual result. You can also see these 2 mail results in the further information part.
Starting with the most recent, consider including a detailed description of each relevant educational item, listing the name of the institution and its program in chronological order.
You can add informal training and events to the" Other Experiences" section. This may include research projects, competitions, or other areas of interest that can help demonstrate its value.
---
Analyze Competitors' Profiles
I don't know all the areas, but if you find a suitable site for yourself, you can see the top 20-30 profiles in that area. However, I will ask you not to miss some points when looking at the profiles. There are a lot of freelancers, and I've heard from a few people. "There are so many good freelancers; why would they choose me?"
The profiles of other freelancers can inspire you, but don't forget to make yours original and unique. There is a link where you can see the best profiles. Browse Top Freelancers by Category - Upwork
Can We Add Customer Ideas To The Profile Description?
I wanted to share two different strategies that I like. In the first one, they put quotes from old customer reviews together while deciphering their skills in the description section. It makes sense because the explanation part is above and is the first place to look.
The second is a personal promotional video of freelancers interviewing an old client. The client tells about the benefits or achievements of working with this freelancer.
There are more worker-seekers than freelancers. Don't make copy-paste these profiles. Get into the details. Whatever your own experience is, create a profile that fits wherever life has taken you.
Believe me; if 100 people are competing with you here, there are 1000 different jobs. In addition, the highest number of freelancers are usually busy and can not get a job. This is an advantage for you.
Consider the following additional tips:
Create a profile about your customers. How can you help them?
Be consistent in your strongest skills, and take advantage of all profile sections to back up your skills (title, skills, overview, job history).
Help to build trust by completing all the sections.
Be concise and understandable in your language.
Read each section carefully and update your profile regularly.
Track your reputation by exercising more control over your JSS score by trading on inactive contracts.
Update your profile visibility if your profile has been changed to "private" due to a lack of activity.
Connect other professional accounts in your profile settings to help Upwork match you with jobs.
Get a perfect responsiveness score by responding quickly to invitations and messages.
Update your profile availability, so you get more invitations when you become unresponsive. Set your profile to "not suitable" to avoid risking damaging your responsiveness score.
How Do I See My Profile Through Someone Else's Eyes?
Put Moreover, You can also ask your friends to give you feedback before posting your profile. Another good tactic is to read your profile aloud. It's a great way to see if your posts are flowing well, have a nice rhythm, and look like you.
---
Determine Your Hourly Rate
If you are reading this article, you haven't considered your hourly wage. Whatever you're doing, my first request is to keep your hourly rate not below $30. Here, the competition is very high, and you can be more exposed to stingy people.
Never make compromises on hourly wages to get a job. If you trust yourself, it is your natural right to write the appropriate hourly rate on your profile.
In addition, applying for low hourly wages or jobs with a low budget is caused by a lack of confidence in your career. At least, it is perceived and attracts employers we will call "freeloaders" towards you. These people will exploit you for 3 cents.
If you have no idea about the hourly rate, you can look at other freelancers or apply this formula:
●   Multiply the full-time salary amount in your country by 6.
●   Divide it by the time amount that you work in a month.
●   Divide it by whatever the dollar exchange rate in your country.
---
Freelancing is not a 'comfortable' career even though it sounds or looks from the outside. A freelancer who has risen is in much better shape than anyone who works outside; this is obvious. But until you reach that goal, you will go through specific paths that may fall.
No one offers a new freelancer too much responsibility or high money. If you developyourself on this path and take it step by step, you will be moving towardsa happy ending. Never underestimate the trumps of being patient and determined. Instead, work harder and become the boss of your own business.
Does Plus Membership Provide An Advantage Algorithmically?
I asked a "Talent Success" friend if "Plus Membership" algorithmically offers an advantage in finding a job compared to regular users. Here is the answer: It does not make your profile disappear when you don't use it.
Does Upwork Plus Membership Make Sense?
The essential advantage of the Plus account is that you can see the range of offers for the jobs you will apply for. There are not many advantages to it. Moreover, 80 credits will work fine if you have also learned how to apply.
I've been a plus member for three months, and there has been a period that I canceled my membership for two weeks. Although I don't have any solid evidence, let me tell you about my experience. I got three big jobs when I was a plus member. It could also be a complete coincidence. But just because of this experience, I continue my plus membership even though I have not applied for a job for months and my connections are accumulating. So I somehow sense that it provides convenience on the way to large customers. As I said, this is entirely my experience.
The three big jobs I mentioned are charged as $34/h, $48/h, and $60/h. I recommend you try at least a month with the money you earn from employment, not by buying in case of you can't get a job for a long time. But keep it in mind it is not shown to the other side that you are a plus member on the other side's screen.
Will The Invitations I Receive From Upwork Decrease When I Make My Profile Private?
Suppose you do not get bored of answering unnecessary questions, staying public, and stating that you can not help due to the intensity of incoming requests. In that case, you can work on different projects in the future, and it will have a positive effect in the long run. The reason is that people want to work with people they have contacted once and think they can communicate correctly.
---
What If Your Profile Is Not Approved?
As Upwork becomes more popular, it becomes more selective about who can apply for jobs.
If your profile is not approved the first time, don't panic. You can send it again after making some changes.
There is no limit on how many times you can send your profile to review on Upwork.
I know this can be annoying. That's why I'm going to share strategies that have been tested and proven behind the camera to increase the chances of your profile being approved by Upwork quickly.
Show Upwork that you are a serious professional freelancer from the very beginning.
Tell EVERYTHING you can in your profile.
Never choose a single job subcategory.
Make sure your title is not too uncertain or too specific.
Be attentive to your profile overview.
If you have an employment history, add it to your profile.
Include ALL your education information
Treat your profile like a resume.
Strengthen your profile with a few portfolio pieces or quickly create some if there are none
Make your other professional accounts "vouch" for you.
Keep improving your profile and try again.
If I Turn My Settings To The Private Profile, Can The Others See The Proposal I Have Made?
If there is no activity on the profile during the 90 days, the profile is automatically set to private. The clients we made an offer to can see the profile still.
Try adding more experience with different skills, subcategories, and ratios. Make sure you keep track of the various combinations you've submitted in the past and consider the feedback provided by Upwork.
Remember that there is no limit on how many times you can post your profile on Upwork, so don't get discouraged. Keep adding new skills to your profile by taking advantage of a book, your work, or all the free online information.
---
Can I spend the money I earn as a freelancer on Upwork from my client account?
My Upwork profile is hidden because I haven't taken a job in a while. What can I do?
What Does The Private Talent Cloud Mean?
What is a Talent Scout Application? How is it done?
What is the Upwork Vetted Talent Interview? How is it done?
Can I spend the money I earn as a freelancer on Upwork from my client account?
Question: Do you have a freelancer and a client account in Upwork? How do we make arrangements for this? If there is someone who uses it like this, can you help me? Do I need to open a separate account as a client?
Answer: I have both accounts. Upwork withdraws from separate accounts. It connects to the same account but pays from a different place.
My Upwork profile is hidden because I haven't taken a job in a while. What can I do?
If you contact the Support Team and specify that you want your profile visibility to be opened, it will be opened in a few days. If there is no activity in the account for 90 days, it is set up this way. You can open it by switching to a paid account or by providing information to support and asking to open it.
If you click on the icon next to locked private, 2 options will appear, one will be the plus membership option, and the other will send mail to the Support Team. If you send a support mail, they will open it within 1-2 days.
NOTE: If you are not going to apply for a job right away, it is better to wait because if you do not apply for a while after you are active, they will set the private mode again and send an email; you can select the setting as a public mode again via that email. I am writing this because I have experienced it myself. Of course, if the reason for taking private is different, mail it to the Support Team again. You don't need to open a new account.
What Does The Private Talent Cloud Mean?
Upwork has its certification evaluation system. It means Upwork puts you in the talent pool. You're not applying for this. They will send it to you. They sent it to me 3 weeks ago, and I'm waiting for the result.
What is a Talent Scout Application? How is it done?
Upwork has its certification evaluation system. It means Upwork puts you in the talent pool. You're not applying for this. They will send it to you. They sent it to me 3 weeks ago, and I'm waiting for the result.
When you register, Upwork evaluates you to find a remote job. If you pass the evaluation, it looks like a lovely door for you to get bigger jobs.
Interview details:
What kind of work do you do at Upwork?
Can you tell us about your career?
What are the services you provide?
How do you make the delivery? (For example, I answered this question as mp4, .mov)
If you have a portfolio, could you send the link?
Do you prefer a fixed price or an hourly contract?
Do you want to work for short-term jobs or long-term jobs? I said I wanted to work for both of them.
Would you share with us a job that you are proud to do? (After I told them, they asked for a link)
We had a meeting for an hour. It was like the meeting I first signed up for to get Upwork's approval for my profile. They ask questions such as how long you have been freelancing, what kind of projects you enjoy working on, and whether these jobs are long-term or short-term, fixed or hourly. They will forward the interview records to the relevant unit. Again, there will be an interview with them. If the meeting passes successfully, then we are in.
They mostly talked about that program.
They asked a few questions about my work preferences, questions that usually had a one-word answer. Do you prefer short-term or long-term? I think we also chose keywords related to business areas for the profile.
The question of the project that you are most proud of also came to me, I think it's a standard. I believe it is crucial to answer in detail, I suggest you prepare an answer for this question in advance.
They said they would return in 2 weeks.
The interview lasted about 15 minutes in total. As I said, I didn't feel like I was in an interview but a brief.
What is the Upwork Vetted Talent Interview? How is it done?
It lasted about half an hour, and they asked many questions. At first, they explained that this program had particular jobs at work. According to them, the competition was too much, but the competition was less in reality.
They started to ask if I preferred long-term or short-term; I said long-term, but they said short-term job opportunities come more often and asked if I was okay with that; I said it was okay. So they asked about my skills, the project I am most proud of, and why. I explained to them, and then they asked me how many years I have been doing this job and more detailed questions.
They said they would be back in 1 or 2 weeks.
Why Do The "Clients Who Would Recommend" Statistic Decrease?
I had a meeting with the Upwork Support Team. I asked why the "Clients who would recommend you" part started to be less active last week. The most significant factors were the Refund and the cancellation of the contract.
Two of my projects were canceled that week. One of them was a test contract; we couldn't agree on a price, work planning, and designs. In the other project, they canceled the project because their customers gave up. I also refunded the remaining $450, so the customer would be satisfied. After the Refund, "Clients who would recommend you" changed to 93-86-82-80 respectively.
I asked the customer representative if there was a connection between JSS and Recommend. I also asked about how the JSS will be affected by this. They said these two are separate metrics and not connected, but in my observations, JSS and Recommend always proceeded in parallel.
When will the amount in the contract be transferred to my account?
Can I Afford The Necessary Capital To Start A Company From Upwork?
Of course, you can afford it, but there is a requirement that you have not previously received income in matters such as young entrepreneur support. If you get stuck in the audit, there may be a penalty + payback of the incentives you received. All the incentives you will receive in the future may come with a penalty, but I don't know the chances of it, so if you are sure that you will compensate the company's cost in 1-2 months, start establishing your company directly.
How Many Days Are Required After The Contract Ends To See The Job's Review On The Profile?
If the business has closed, change your hourly rate in the profile. When you do this, the profile update function is triggered.
The jobs I completed did not appear on my profile. They started to show up after I changed my profile title. As I understand, there is a bug on Upwork that does not automatically update completed jobs to the profile. Shortly, if the contract is not visible in the profile a few hours after closing, then it seems that you can open and save your profile again for updating the profile.
Is There A Limit In Progress?
Question: Is there a limit to our work that has already been taken? As I remember, the limit must be 8 jobs.
Answer: I saw 200 jobs in one profile; the profile had a team to handle all of these jobs.
Is There A Limit In Progress?
Question: Is there a limit to our work that has already been taken? As I remember, the limit must be 8 jobs.
Answer: I saw 200 jobs in one profile; the profile had a team to handle all of these jobs.
What's The Reason My Last Fixed Job Didn't Appear In My Work History?
It appears when the customer approves the milestone.
Do The Social Media Accounts We Added Appear In The Profile?
They will not appear on your profile.
Is It Okay If I Hire Myself For A Job To De-Privatize My Account?
You'll be banned entirely. I have a friend who did it and got banned.
● You can switch to a plan that costs some money.
● You can start applying for a job. I recommend this.
Is There A Positive Effect Of The Same Customer Opening Different Contracts And Giving Different Feedback For Each Job?
It would be more of an advantage if there were not many jobs in your profile; maybe when the profile is full, grouping these contracts or resuming on a single contract makes the last jobs have a bigger budget.
I know Upwork commission rates are not reduced on a business basis but on a customer basis. So, for example, I know that even if you overreach $500 with one job, it goes down to 10%, and even if you exceed a total of $ 500 with 3 jobs, it goes down to the same customer. So there are not any disadvantages either.
Is The Normal Connect Used For The "Available Now Badge"?
It is taken from normal connects; The last version was weekly 2 connects.
Is It A Bad Impression That Low-Budget Jobs Remain In Profile After Receiving High-Budget Jobs?
It can stand out if you mean a big budget of $3-5K, but it is okay if it's around $300-500. Besides, soon they will become invisible. They will be left behind in your profile.
Talent Success Services - Profile Review and Recommendations
Talent success services ask if you would like to comment on your profile. I said Yes, of course. They sent a very long email, but I'm copying the critical points here.
● Keep your job success above 90%,
● People can't see what I'm doing without completely opening my profile to the public. It matters what it says in the first 200 characters. Edit there if it is necessary.
● Specify the way you do business (I believe in strong communication, etc.) and develop your profile writing
● Use bullets
● The ranking of skill tags is important, and I was advised to put the most important ones first.
● You can talk about the things you volunteer for outside of work and your interests; you can also chat with clients beyond the job itself.
● Shortly, pay attention to the customized proposals since their recruitment percentage is above %70.